CSGNA National Conference 2018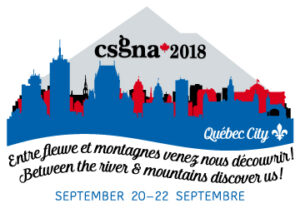 The CSGNA Conference is the largest gathering of healthcare professionals, Associates and decision-makers, with a focus on gastroenterology nursing, in Canada. Featuring high-profile keynote speakers; cutting-edge panels on current issues in gastroenterology nursing; and a wealth of networking activities, the conference is the country's premier event for evidence-informed discussion and debate on health care.  The 2018 CSGNA Conference will feature a multi-disciplinary educational program, renowned guest speakers, an extensive two-day trade show, and a great social program.
The 2018 CSGNA Conference Planning Committee has confirmed the following opening and closing speakers:
Our social event will be a evening cruise on Friday, September 21 on the AML - Louis Jolliett. Get your boarding pass and don't miss this evening of fun and entertainment!
Check the website often for updates as they become available. Register here!
A simultaneous interpretation service will be available for the plenary sessions and for one session in each of the concurrent sessions.
29th Annual CSGNA National Conference

"BETWEEN THE RIVER & MOUNTAINS DISCOVER US!
ENTRE FLEUVE ET MONTAGNES VENEZ NOUS DÉCOUVRIR !"

September 20-22, 2018

Quebec Convention Centre
(Room block - Hilton Quebec)
Quebec City, QC

Latest News & Updates
30th Annual CSGNA National Conference
Delta Hotels St. John's Conference Centre
September 19-21, 2019

---
CONFERENCE OBJECTIVES
At the end of the conference, delegates will be able to:
Encourage camaraderie and networking on a national basis.
Provide current information in the speciality of gastroenterology.
Exchange clinical and research information.
Provide nurses with the opportunity to experience what is new and upcoming in both medical devices and pharmacology.
Promote membership in the CSGNA.
Participate in the planning and future direction of the CSGNA.
CONTINUOUS LEARNING ACTIVITY FOR CANADIAN NURSES ASSOCIATION (CNA) CERTIFICATION:

While this educational activity is not officially endorsed by the Canadian Nurses Association (CNA), nurses may claim it as a continuous learning (CL) activity toward renewal of the CNA certification credential if it is related to their nursing specialty. Pre-authorization from the CNA Certification Program is not required. Participants are encouraged to retain a confirmation of attendance.
PRIVACY STATEMENT: Registration information is collected to process registrations and payments for educational events, correspond with registered delegates, and to publish delegate lists for event participants. If you do not wish to have your registration information used for these purposes please indicate this on the registration form.
CONSENT TO USE OF PHOTOGRAPHIC IMAGES: Your registration and attendance in CSGNA 2018 conference constitutes an agreement by the registrant to the Canadian Society of Gastroenterology Nurses & Associates (CSGNA) to use the registrant's image in photographs.