Join Us in Quebec for the 2018 CSGNA National Conference!
Early Bird Registration Ends August 7. Save $100!
"BETWEEN THE RIVER & MOUNTAINS DISCOVER US!
ENTRE FLEUVE ET MONTAGNES VENEZ NOUS DÉCOUVRIR !"
Welcome
CSGNA is the National leader in Gastroenterology (GI) Nursing contributing to and providing access to, evidence-based standards, guidelines, position statements, expert opinions, publications, and education. CSGNA collaborates and partners with organizations and health care groups to provide advocacy, contributions to research, statistics, and a diverse network of GI Nursing Professionals and associates.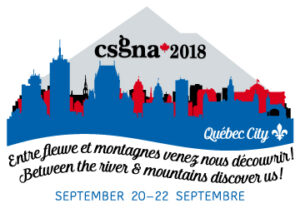 The CSGNA Conference is the largest gathering of healthcare professionals, Associates and decision-makers, with a focus on gastroenterology nursing, in Canada. Featuring high-profile keynote speakers; cutting-edge panels on current issues in gastroenterology nursing; and a wealth of networking activities, the conference is the country's premier event for evidence-informed discussion and debate on health care.  The 2018 CSGNA Conference will feature a multi-disciplinary educational program, renowned guest speakers, an extensive two-day trade show, and a great social program.
The 2018 CSGNA Conference Planning Committee has confirmed the following opening and closing speakers:
Our social event will be a evening cruise on Friday, September 21 on the AML - Louis Jolliett. Get your boarding pass and don't miss this evening of fun and entertainment!
Check the website often for updates as they become available. Register here!
A simultaneous interpretation service will be available for the plenary sessions and for one session in each of the concurrent sessions.
29th Annual CSGNA National Conference

"BETWEEN THE RIVER & MOUNTAINS DISCOVER US!
ENTRE FLEUVE ET MONTAGNES VENEZ NOUS DÉCOUVRIR !"

September 20-22, 2018

Quebec Convention Centre
(Room block - Hilton Quebec)
Quebec City, QC

 

Latest News & Updates
30th Annual CSGNA National Conference
Delta Hotels St. John's Conference Centre
September 19-21, 2019
Don't miss your opportunity to apply for the 2018 CNF Certification Award! If you're selected, you will be reimbursed the fees for the certification exam,certification renewal exam or renewal by continuous learning. You can apply in any of the 21 nursing practice specialties.
The application deadline is November 1, 2018.
For more information visit here
The Canadian Nurses Foundation (CNF) supports world-class Canadian health care by raising funds to advance nursing knowledge and research, and by recognizing professional merit in Canada's nurses. We provide deserving nursing students and nurses with the financial support they need to pursue their educational goals.
REMEMBERING
Maria Cirocco - November 16, 1955 – July 14, 2018
Visit the full obituary
for Maria Cirocco to leave a condolence message or share a memory.
"CSGNA Membership has been an enriching experience for me both on a professional and personal level. I have felt supported by the Association and have met many wonderful GI nurses in the 16 years of membership."
Lorraine, Majcen, RN, CGN(C),
National Secretary